Company History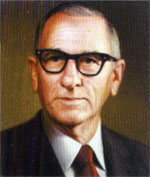 In 1947, the late O.L Sims founded L & A Contracting Company with a small highway project between Richton and Sand Hill, Mississippi. Since that time, growth has been significant. The company was established with the sound and timeless principle of honesty, integrity and dependability. Through the years L & A Contracting Company has earned a reputation for success built on high quality, skilled craftsmanship and unlimited capabilities.
With three generation family members now actively involved, the tradition of excellence continues. Beginning with the founder, every generation has learned the business "ground up" from an early age by performing all types of work on a variety of construction projects.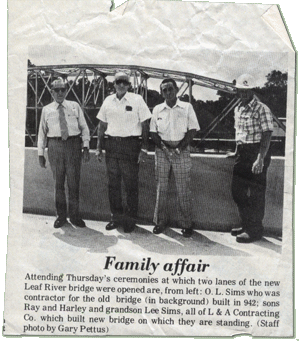 Before starting L & A Contracting Company, O.L. Sims worked in sawmills in Arkansas in the 1930s and built bridges in Mississippi in the early 1940s. He devoted more than forty years of active service to the construction industry supervising the building of many bridges, docks and wharves, roads, dams, irrigation projects, flood control structures and utility systems. His sound judgment and leadership provided the vision to propel the company into its second and third generations.
Building roads and bridges came naturally to his sons, Ray A. Sims and the late Harley L. Sims. While still in their teens, they joined their father, learning the business literally from the ground up. Ray and Harley Sims were instrumental in expanding L & A Contracting Company to Alabama, Florida and Louisiana. Ray worked in Miami and Ft. Lauderdale, Florida on company projects and supervised flood control projects in the Everglades for the U.S. Army Corps of Engineers in 1958. Harley guided administrative and financial affairs in the office and directed in the preparation of bids.
Lee carried the business into the third generation when he started working at L & A Contracting Company after school during the 1970s. His first supervisory job was building the South Miami, Florida Turnpike Extension. He is now the company president and runs the day-to-day operations.
C.T Sutherland, has been an integral member of the L & A Contracting Company Management team for over 25 years. He is one of the three shareholders and manages another family business, F-S Prestess, LLC.
From the early days of building two-lane highways and narrow bridges in Mississippi, L & A Contracting Company has grown to include sophisticated projects all over the Southeastern United States. Continuous evaluation and upgrading, as well as enhanced control procedures have fueled the company's steady growth and expansion.
Southeastern Concrete Company was founded in 1967 by the late O.L Sims and sons and has grown to include five plant locations. The plants are fully certified by the National Ready-Mix Concrete Association and can service any size commercial or residential job.
F-S Prestress, LLC, with plants in Hattiesburg, Mississippi and Princeton, Louisiana, was acquired in 2000 to manufacture the highest quality concrete pre-stress piles and beams used in bridge and commercial construction.